From MedPage
House Passes Bill to Address Fentanyl Overdoses
— But critics say the HALT Fentanyl Act is the wrong way to approach the problem
by Joyce Frieden
The House passed a bill Thursday that proponents say is designed to reduce the number of people who become addicted to fentanyl, but opponents say it won't solve the problem and will just increase the number of people incarcerated for drug-related crimes.
The Halt All Lethal Trafficking of Fentanyl (HALT Fentanyl) Act passed by a vote of 289-133, with 215 Republicans and 74 Democrats voting in favor. The measure would:
Permanently put fentanyl-related substances into Schedule I of the Controlled Substances Act. Currently, fentanyl is on Schedule I through Dec. 31, 2024, thanks to a temporary scheduling order issued by the Drug Enforcement Administration (DEA).
Establish a new, alternative registration process for Schedule I research that is funded by HHS or the Department of Veterans Affairs or that is conducted under an investigative new drug exemption from the FDA.
Clarify that offenses involving fentanyl-related substances are triggered by the same quantity thresholds and subject to the same penalties as offenses involving fentanyl analogues. For example, offenses involving 100 g or more of a fentanyl-related substance will trigger a 10-year mandatory minimum prison term.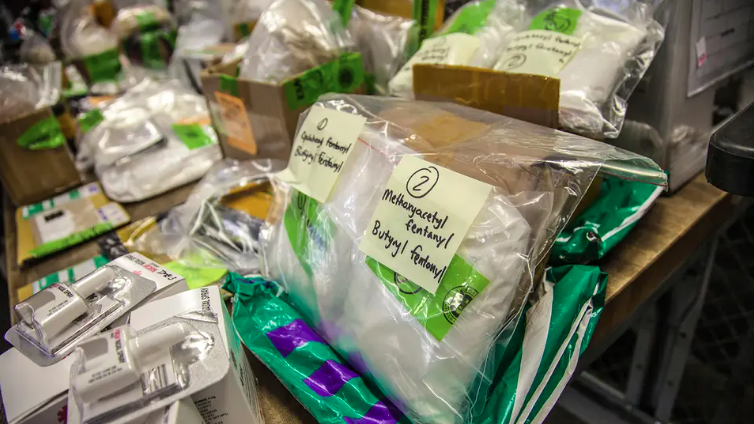 The bill also makes several other changes to registration requirements for conducting research with controlled substances, including permitting a single registration for related research sites in certain situations, and waiving the requirement for a new inspection in some cases.
"With today's bipartisan vote in the House to advance the HALT Fentanyl Act, we are one step closer to curbing the devastating fentanyl poisoning crisis and saving American lives," Rep. Bob Latta (R-Ohio) said in a statement. "Illicit fentanyl is now the leading cause of death for people in the United States aged 18 to 49 … This permanent labeling change is significant and needed because it will help get fentanyl-related substances off our streets and out of our communities. I now urge the Senate to take up this bill and send it to the president's desk to be signed into law."
House Speaker Kevin McCarthy (R-Calif.) applauded the bill's law enforcement provisions. "Due to the Biden administration's incompetence at the border, fentanyl has flowed into American communities and destroyed lives," he said in a statement. "The HALT Fentanyl Act is one needed tool to help stop the flow of fentanyl and provides law enforcement agencies the authority they need to help them adequately address this crime."
---