ACE Mobile App
Adverse Childhood Experiences
Mobile App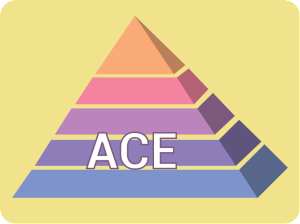 Ever wonder why you, or persons close to you, have addictions, smoke, can't keep a relationship or job, or work or shop too much?
This free mobile app is designed to increase awareness of how traumatic and negative experiences in childhood form the person in adulthood. The ACE Quiz was developed in response to the Adverse Childhood Experiences (ACE) Study, an ongoing collaboration between the CDC and Kaiser Permanente.
The ACE Study revealed staggering proof of the health, social, and economic risks that result from childhood trauma. Taking the ACE Quiz provides you with an ACE Score from 0 to 10: the higher the score, the higher the risk you might have for heart disease, cancer, diabetes, autoimmune disease, as well as depression, violence, being a victim of violence, and suicide.
After taking the ACE Quiz, you can learn more about the ACE Study and its findings, and check out the additional resources on adverse childhood experiences and their impact, and on practices that nurture resilience and recovery. A link to the SAMHSA Mental Health Treatment Facility Locator can help you find a professional trained to address the effects of trauma.
An ACE score is not a diagnosis. Many people have been capable of changing the trajectory in their lives and therefore, each ACE score should be viewed as an awareness and education.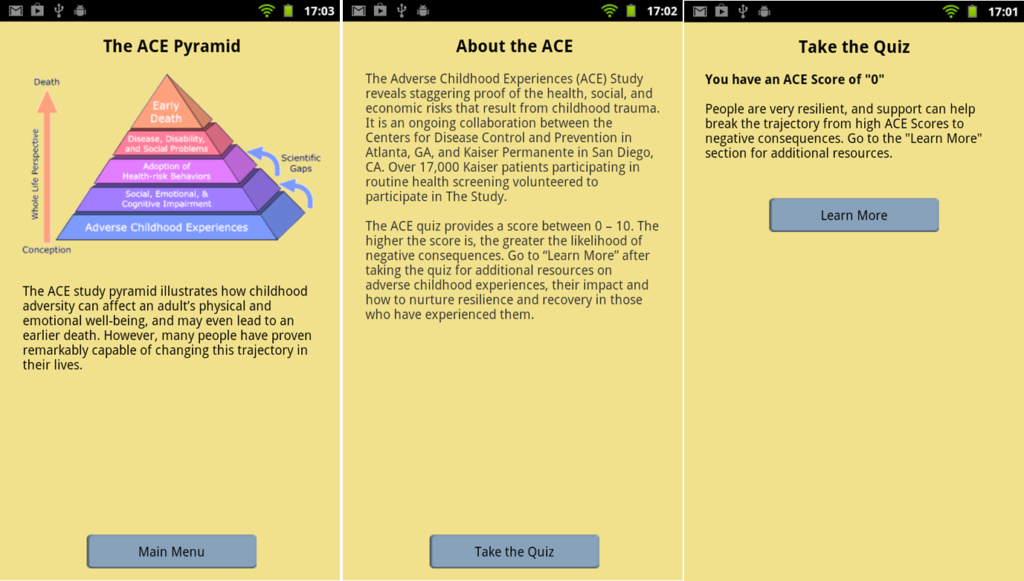 Amazon Customer Reviews:
Most of us who have grown up in dysfunction realize it hinders us somewhat in our adult life, but if you've never gotten professional help you attribute life's problems to other circumstances. This app, although not a full-fledged psychological inventory gives you a remarkable insight into just how childhood dysfunction has an effect in your adult life. Thanks for caring enough about your fellow man to offer this free insightful tool.
By chatcat65
—–
For what this app does, I believe it is sufficient. This app is merely a tool. It is not a replacement for professional therapy, but it can provide insight into things one might not have been aware of before. This can also be of use for a therapist to measure a client regarding this, although that is not something I would suggest due to other factors of confidentiality etc.
This is a simple app for one purpose. It is not very entertaining, but it is not meant to be that way. Personally, when I took it, I found it to be accurate and insightful. This is not an app I would use on a daily basis, and might be a one time use which is why I docked a star from it. Otherwise, it does what it is intended to do and comes from a credible resource.
By Michael
—–
The app is going to make for a giant leap! I can't wait to get it and be able to share with people more easily. Keep up the great work!
Lauren, acestoohigh.com