The District of Columbia's Department of Behavioral Health conducted a free two-day training entitled Disaster Mental Health Responder Certification Training which this author attended on October 21st and 28th, 2013.  Although open to the general public, the majority of attendees were Department of Mental Health employees who needed to earn continuing education credits.
Although this training can stand on its own, it is also part of the certification training program for Disaster Mental Health Responders who serve on the District's Emergency Response Teams. These teams are deployed during wide spread community incidents such as severe weather, hazardous material spills, and terrorist attacks.
This training provided many insights about disaster situations, information about disaster response work, as well as general tips on disaster preparedness.
Disaster Situation Facts:
People with mental illness who are not able to get their medications may become disruptive during a major disaster. The Center for Disease Control (CDC) only maintains a supply of antibiotics. However, the Department of Behavioral Health does keep a stockpile of various medications and plans are in place for the continuous distribution of methadone for the District's consumers.
Power is frequently interrupted during a disaster. Problems with "commo" or communications are also likely. Cell phones may fail and although satellite phones may be available, many people are unfamiliar with using them. Therefore, disaster responders should initially find out as much about the disaster situation as possible before leaving for the scene.
Uncertainty is often an exacerbating factor in a disaster situation as this greatly increases levels of stress Addressing people's concerns with regularly scheduled and frequent updates and suggestions may provide some relief.
Accommodating pets is becoming a more frequent practice as pet shelters and disaster responders have learned that people often won't evacuate if it means leaving their beloved pet behind.
Psychological First Aid, an evidence-informed approach for assisting children, adolescents, adults, and families in the aftermath of disaster and terrorism, may be immediately required. Although not considered as therapy, PFA does involve the following core actions: Contact and Engagement; Safety and Comfort; Stabilization; Information Gathering: Current Needs and Concerns; Practical Assistance; Connection with Social Supports; Information on Coping: and Linkage with Collaborative Services.
Con artists and scammers, sensing an opportunity during a disaster when people are more vulnerable, may suddenly appear on the scene.
Often people seem to rally right after a disaster but then struggle 6 or more months later with discouragement and grief when life still hasn't returned to its former normalcy.
Disaster Response Worker Facts:
Just listening to the survivor stories can be traumatizing for response workers.
Empathy can be both a blessing and a curse for response workers in disaster situations.
Response workers need to be vigilant about burnout. Burnout isn't when you are feeling badly, but rather when you are feeling badly and not doing anything about it.
General Tips for Disaster Preparation:
Keep a pair of practical walking shoes at your place of work in case your evacuation requires a long walk.
Keep your car's gas tank full. During the New Orleans disaster, those with near empty gas tanks ended up being stranded.
Each workplace should have an evacuation plan and designated shelter locations and ensure that all employees are fully aware and trained to execute an evacuation order.
While there was too much useful information given over the two days of training to summarize here, this one little nugget had the most impact on this author. To paraphrase the main presenter, Dr. Kevin O'Brien:
As a responder, you should be aware that your mouth is not big enough for all the times you will put your foot in it but that is OK, own your mistakes and move on. When you are acting with a good heart, people will be understanding and forgive. Your desire to be a good person will carry you through this kind of work and allow you to make a valuable contribution.
Learn more:
The District of Columbia Department of Behavioral Health Training Institute – register for this and other courses here:
District of Columbia Disaster Mental Health Services
The National Child Traumatic Stress Network – resources and training
National Preparedness Directorate/National Training and Education
Phases of Disaster: Collective Reactions
The graphic below illustrates the general progression of the disaster effects on communities from the pre-disaster or warning phase through to the reconstruction phase.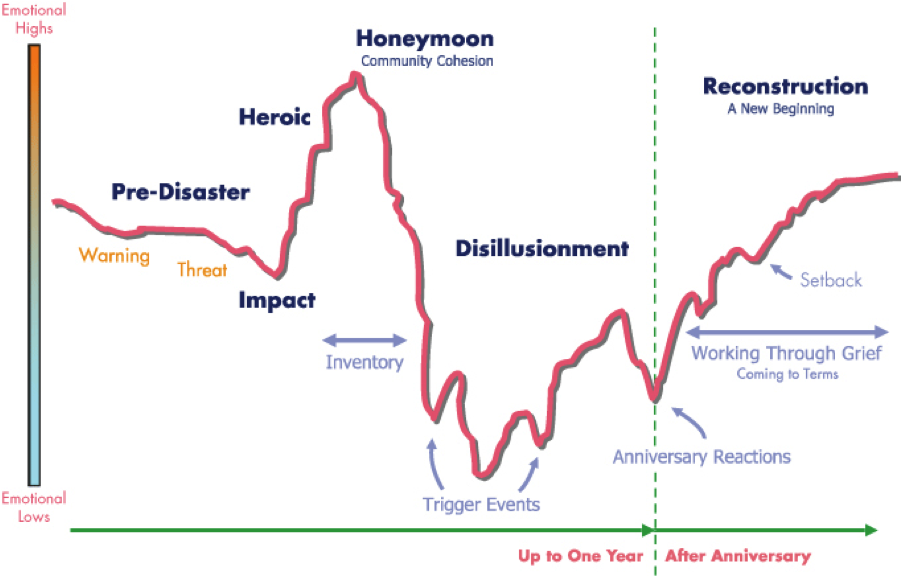 http://www.samhsa.gov/dtac/ccptoolkit/phases.htm
Simone Fary was previously employed at The Danya Institute as an Instructional Design and Technology Specialist.