Regional Events Calendar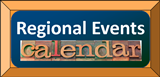 Visit Central East ATTC's website for upcoming trainings, webinars and other events.
REGION 3 EVENTS:
May 9, 2020: Oak Hill, WV – A Walk for Hope, Fayette County Substance Abuse Task Force. This event is meant to raise awareness of Fayette County's drug epidemic. The goal is to recognize community members who are in recovery, those who have lost the battle to addiction, or those who are ready to start their journey into recovery, as well as reduce stigma around substance use disorders. There will be resources available with information on the different programs offered in WV.
June 23, 2020: Westminster, MD – 24th Annual Risky Business Prevention Conference – On the Rise: Navigating Current Trends for Mental Health, Carroll County Department of Social Services. This conference will discuss vaping, current trends in drug use, child sex trafficking, a survivor's perspective, and developing compassion resilience.
September 12, 2020: Richmond, VA – 16th Annual Recovery Fest & BBQ Cookoff, McShin Recovery Resource Foundation. This event will have recovery resources, vendors, food, family activities, music, corn hole, speakers, non-profits, and more! 'Smokin' Meat… Not Drugs.'
September 29 2020: Gaithersburg, MD – Race 4 Recovery 5K Run/Walk, Knight Foundation. This annual event that is based on providing immediate action to those threatened from addiction and overdose. This run/walk is to promote awareness, break down stigmas associated with addiction, honor those that have been lost, and support those who currently are in the fight. 
October 3, 2020: Frederick, MD – 4th Annual Stomp Out Heroin 5K, The Ranch-Bringing Hope to Maryland. Come help fight substance use as a community by participating in the 4th Annual Stomp out Heroin 5k!! This is a family-friendly event and money will go to help those in need receive the treatment that they so desperately need.
October 7, 2020: Baltimore, MD – 32nd Annual Suicide Prevention Conference, Maryland Department of Health. This is held each year on the first Wednesday of October. Topics include trauma, ACE, skills building, suicide risk, suicide prevention, telehealth, minority communities, teens, older adults, and many others.
---

DISTRICT OF COLUMBIA:
TBD 
MARYLAND:
September 12, 2020: Woodbine, MD – Carroll County MD Walk
September 20, 2020: Germantown, MD – Montgomery County MD Walk
October 25, 2020: St. Mary's City, MD – Southern Maryland Walk
PENNSYLVANIA:
September 12, 2020: Harrisburg, PA – Harrisburg Walk
September 12, 2020: Pittsburgh, PA – Pittsburgh Walk
September 19, 2020: Erie, PA – Erie Walk
September 19, 2020: Carlisle, PA – Carlisle Walk
September 26, 2020: Johnstown, PA – Cambria County Walk
October 4, 2020: Philadelphia, PA – Greater Philadelphia Walk
October 4, 2020: Lewistown, PA – Mifflin-Juniata Walk
VIRGINIA:
September 12, 2020: Virginia Beach, VA – Virginia Beach Walk
September 26, 2020: Suffolk, VA – Suffolk Walk
October 3, 2020: Lynchburg, VA – Lynchburg Walk
October 10, 2020: Stephens City, VA – Stephens City Walk
October 10, 2020: City of Fredericksburg, VA – Greater Fredericksburg Walk
November 7, 2020: Danville, VA – Danville-South Central Walk
WEST VIRGINIA:
September 19, 2020: Princeton, WV – Southern West Virginia Walk
October 17, 2020: Huntington, WV – Huntington WV Walk
---
DELAWARE:
May 17, 2020: Magnolia, DE – St. Thomas More Academy Campus Walk
DISTRICT OF COLUMBIA:
April 23, 2020: Washington, D.C. – Gallaudet University Campus Walk
MARYLAND:
April 4, 2020: Towson, MD – Towson University Campus Walk
April 4, 2020: Baltimore, MD – Johns Hopkins University Campus Walk
April 25, 2020: Baltimore, MD – UMBC Campus Walk
May 3, 2020: College Park, MD – University of Maryland Campus Walk
PENNSYLVANIA:
March 21, 2020: Waynesburg, PA – Waynesburg University Campus Walk
March 28, 2020: Pittsburgh, PA – Duquesne University Campus Walk
April 4, 2020: Bloomsburg, PA – Bloomsburg University of PA Campus Walk
April 4, 2020: Philadelphia, PA – Holy Family University Campus Walk
April 5, 2020: Schnecksville, PA – Lehigh Carbon Community College Campus Walk
April 18, 2020: Huntingdon Valley, PA – Lower Moreland/Bryn Athyn Campus Walk
April 19, 2020: Scranton, PA – Marywood University Campus Walk
April 19, 2020: Pittsburgh, PA – Chatham University Campus Walk
April 25, 2020: Allentown, PA – Cedar Crest College/DeSales University Campus Walk
April 25, 2020: West Mifflin, PA – Community College of Allegheny County Campus Walk
April 25, 2020: Slippery Rock, PA – Slippery Rock University Campus Walk
April 26, 2020: Kutztown, PA – Kutztown University Campus Walk
VIRGINIA:
March 21, 2020: Winchester, VA – Shenandoah University Campus Walk
March 21, 2020: Blacksburg, VA – Virginia Tech Campus Walk
March 21, 2020: Winchester, VA – University of Virginia Campus Walk
March 28, 2020: Alexandria, VA – West Potomac High School Campus Walk
April 11, 2020: Williamsburg, VA – College of William & Mary Campus Walk
April 19, 2020: Newport News, VA – Christopher Newport University Campus Walk
April 25, 2020: Fairfax, VA – George Mason University Campus Walk
May 2, 2020: Amelia Court House, VA – Amelia Schools Campus Walk
WEST VIRGINIA:
April 18, 2020: Morgantown, WV – West Virginia University Campus Walk
---
THE OVERNIGHT WALK

June 20-21, 2020: New York City, NY – Overnight Walk