Regional Events Calendar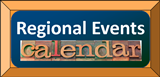 Visit Central East ATTC's website for upcoming trainings, webinars and other events.
REGION 3 EVENTS:
October 3, 2020: Frederick, MD – 4th Annual Stomp Out Heroin 5K, The Ranch-Bringing Hope to Maryland. Come help fight substance use as a community by participating in the 4th Annual Stomp out Heroin 5k!! This is a family-friendly event and money will go to help those in need receive the treatment that they so desperately need.
October 7, 2020: Baltimore, MD – 32nd Annual Suicide Prevention Conference, Maryland Department of Health. This is held each year on the first Wednesday of October. Topics include trauma, ACE, skills building, suicide risk, suicide prevention, telehealth, minority communities, teens, older adults, and many others.
October 14-15, 2020: Virtual – West Virginia Rural Health Conference 2020, West Virginia Rural Health Association (WVRHA). The theme for this year's conference is West Virginia's Resilience: Innovation in Meeting Rural Challenges. Conference objectives: • Provide information about the best practices across the state and nation for improving the provision of rural health for all citizens of West Virginia; • Understand how COVID 19 is affecting West Virginia; • Identify population management, leadership and workforce challenges, as well as how to increase recruitment and retention; • Identify best practices entered on rural centered on rural health workforce and emerging issues relevant to rural health and; • Encourage further discussion and collaboration across all levels of health systems and rural health infrastructure
October 16, 2020: Virtual – 38th Annual NAMI Maryland Conference, NAMI Maryland. The NAMI Maryland Annual Conference is about hope, ideas, and gaining new skills. Here's your chance to learn about the latest research, discover resources that you may not have known were there, develop a talent for advocacy, and foster a better understanding of issues relating to mental illness.
October 20, 2020: Virtual – Harvest Full of Hope, Harvest Full of Hope. An annual, free mental health awareness conference, virtually from PA, where both providers and consumers of mental health services come together to discuss emerging topics in the field of mental health.
October 20, 2020: Virtual – WV Collegiate Recovery Conference, West Virginia Collegiate Recovery Network (WVCRN). This is the first annual conference of the WVCRN. Topics will include: overview, history & future of collegiate recovery; research supporting collegiate recovery; fiscal implications and economic effects of collegiate recovery/recovery support; equity, inclusion & diversity as core values of collegiate recovery; recruitment & retention during COVID-19; impact of collegiate recovery: voices of WV students, and; opportunity for dialogue with national experts.
---

DELAWARE:
DISTRICT OF COLUMBIA:
MARYLAND:
PENNSYLVANIA:
VIRGINIA:
WEST VIRGINIA
2020 events have all taken place; 2021 events will be added as they become available.
---
THE OVERNIGHT WALK

The 2020 event has all taken place; the 2021 event will be added when it becomes available.