Publications
Central East Project Publications & Resources

Central East ATTC: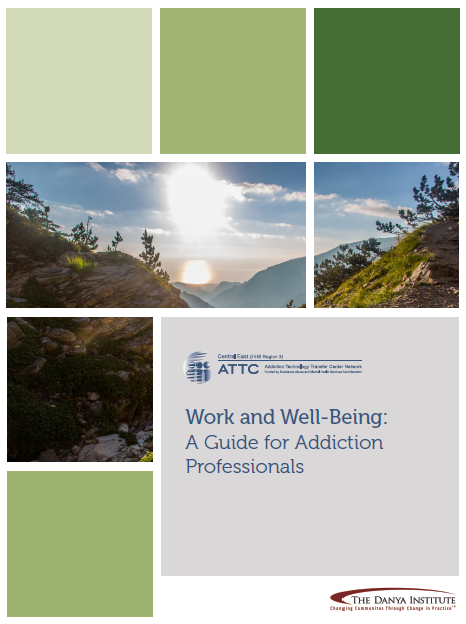 The Central East ATTC's revised Work and Well-Being – A Guide for Addiction Professionals identifies common workplace stressors and how to prevent burnout. It is available in English as a free pdf download. The guide provides strategies that agencies and addiction professionals can use to promote overall self-care. Topics include: professional and personal development, employee wellness incentives, mental wellness, recovery management, and exercise.
---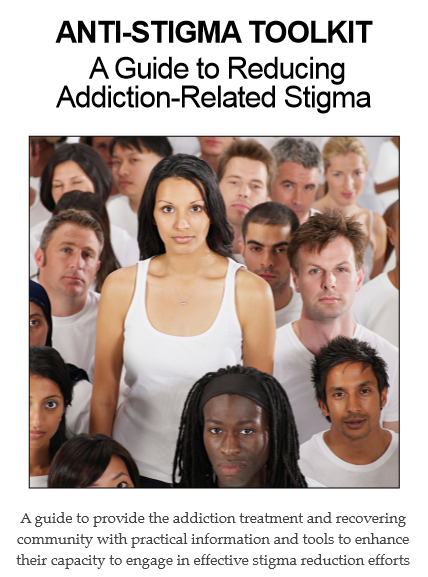 The Anti-Stigma Toolkit: A Guide to Reducing Addiction-Related Stigma provides practical information and tools to enhance the addiction treatment and recovering community's capacity to engage in effective stigma reduction efforts.
---
---

Central East MHTTC: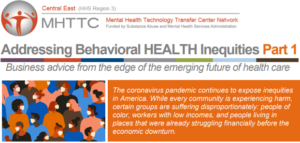 Addressing Behavioral Health Inequities Part 1 & Part 2 – This two-part series provides information on how the behavioral health system can employ the tools of population health management for planning and redesigning. Part 1 describes and provides strategies on how to implement population management. Part 2 discusses value-based reimbursement.
---
COVID-19 Effect on Child Mental Health Fact Sheet – Children have been removed from schools, friends, sports, and activities due to COVID-19. This is a traumatic event for many but children have added fears without knowing how to communicate their anxiety.
---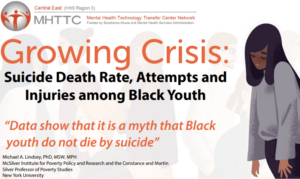 Growing Crisis: Suicide Death Rate, Attempts and Injuries among Black Youth – Infographic on the growing suicide death rate, attempts and injuries among Black youth. The resource discussing recent findings, challenges, what we know, and what we can do.
---

Mental Health Peer Support Workforce Designline – This timeline provides a historical overview about the evolution and significance of the peer support workforce.
---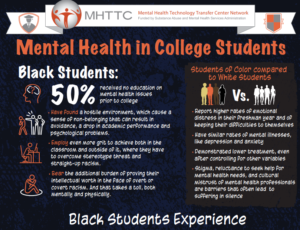 Mental Health in College Students – A downloadable fact sheet highlighting the complexity of Black college students' experiences and how they impact their mental health.
---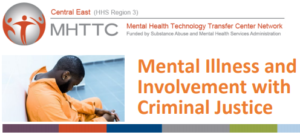 Mental Illness and Involvement with Criminal Justice (Brief No.1) – This brief (the first in a series) emphasizes opportunities to divert individuals with serious mental illness at various points of contact with the criminal justice system and explores the complexities that contribute to the difficulties these individuals face.
---

Mental Illness and Involvement with the Justice System: Effective Clinical Interventions and Programmatic Approaches (Brief No. 2) – This brief (the second in a series) offers a closer look at clinical and programmatic approaches responsive to the needs of justice-involved individuals with serious mental illness.
---
Older Adult System-of-Care Framework Readiness Assessment – This readiness assessment tool is designed to help behavioral health systems improve service capacity for older adults with mental illnesses and substance use disorders. Questions are organized across four key areas to review available resources and supports, assess current policies and practices, and highlight gaps and priorities for systemic improvements
---
Tip Sheet:  Burnout and Virtual Fatigue in Teletherapy
Supporting Children of Incarcerated Parents: A Tip Sheet for Educators and School Staff
Supporting Children of Incarcerated Parents: A Tip Sheet for Parents and Caregivers
Tip Sheet: Teletherapy for Individual Services
---
---

Central East PTTC:
Substance Use Prevention Resources for Use During a Pandemic – Substance use prevention professionals, like many others, have been significantly impacted by the COVID-19 pandemic and the social distancing measures to address it. Many prevention professionals are now working from home, and many venues and spaces where prevention interventions can be implemented are currently closed. Furthermore, with so much focus on the pandemic, it can be difficult for substance use prevention messages to gain traction or for work with stakeholders on environmental strategies to continue.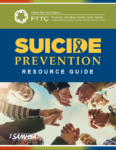 Suicide Prevention Resource Guide – this Guide is intended to support suicide prevention stakeholders and other interested individuals by providing a comprehensive list of suicide prevention resources, as of April 2020. These suicide prevention hotlines and other resources contained in this document are located within the Central East Region (i.e., Delaware, Maryland, Pennsylvania, Virginia, West Virginia, and the District of Columbia). The document is organized into two primary sections: 1) National hotlines and resources developed or supported by the Substance Abuse and Mental Health Services Administration (SAMHSA), other Federal agencies, or national nonprofit organizations; and 2) State-specific hotlines and resources developed by state agencies or statewide or local nonprofit organizations.
---
---

Archived:
Central East ATTC: