From AIDS.gov: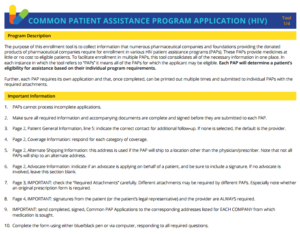 Updated: Common Patient Assistance Program Application Reduces Barriers to HIV Medication Access

This month, the U.S. Department of Health and Human Services (HHS), in collaboration with seven pharmaceutical companies and the National Alliance of State and Territorial AIDS Directors (NASTAD), released an updated Common Patient Assistance Program Application (CPAPA).  Developed in 2012, the CPAPA is intended to be used by both people living with HIV and their providers (e.g., doctors or case managers) to apply to all HIV patient assistance programs (PAPs) at once, thus reducing the application paperwork and time. PAPs are administered by private drug companies and foundations to help patients obtain free or low-cost medications if they qualify based on each program's eligibility requirements.

The CPAPA streamlines the PAP applications of various pharmaceutical companies into one common form that people living with HIV (PLWH) and their providers can then send to each PAP. This greatly reduces the amount of necessary paperwork when applying for different PAPs. Since its introduction in 2012, over 10,000 individuals have used the CPAPA to apply for assistance. To improve the application process, CPAPA was recently updated to provide clarity of the form's instructions, ensure completeness of the application, and allow patients and case managers to fill out the form electronically.