The Dialogue eNewsletter
The Dialogue Bi-monthly eNewsletter & the Danya Direct Weekly Training Bulletin
The Dialogue eNewsletter is published on the first Tuesday every other month beginning in January [2022 schedule: Jan 4, Mar 1, May 3, July 5, Sep 6, Nov 1]. The Danya Direct training bulletin, which contains webinars and virtual events from the Central East region and others of interest to the behavioral health workforce, will continue on a weekly basis.
Read the latest training bulletin, published on May 12, 2022.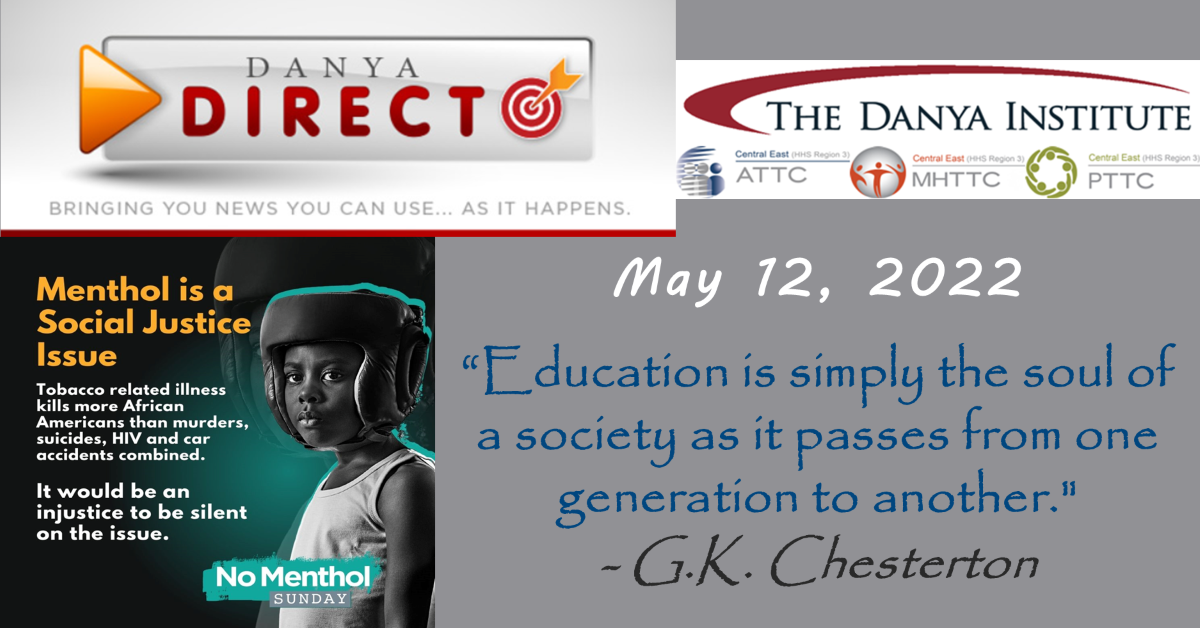 "Education is simply the soul of a society as it passes from one generation to another." — G.K. Chesterton
---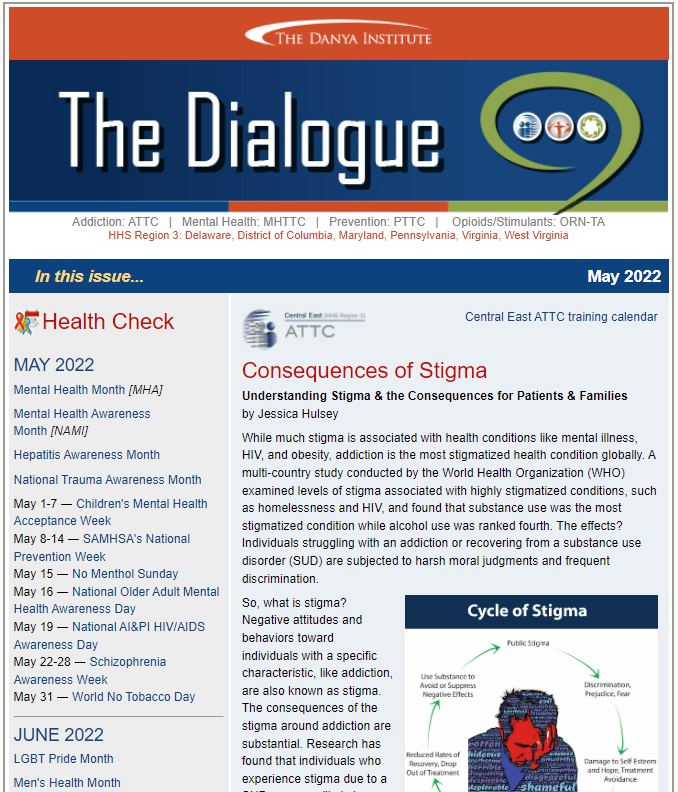 The Dialogue is designed to inform behavioral and mental health professionals and prevention interventionists of news and upcoming events in the jurisdiction of HHS Region 3 (DC, DE, MD, PA, VA, WV). We welcome and encourage any feedback, article submissions, or ideas and topics for future editions of the newsletter.
Read the May 2022 Dialogue, with articles featuring: Addiction: Consequences of Stigma | Mental Health: Older Americans and Mental Health | Prevention: National Prevention Week | ORN: Prevention Is Important. Additional sections include behavioral health observances, virtual training and webinar events, Region 3 news, new resources, and Regional Spotlight: The Tides that Bink, Inc.
Dialogue Archives: 2020, 2019, 2018, 2017, 2016, 2014, 2013, 2012
---
Fill out the form below to receive the Dialogue, important news, and the training bulletin:
---
Dialogue eNewsletter Archives
2022
May 2022 Dialogue

 – Addiction: Consequences of Stigma | Mental Health: Older Americans and Mental Health | Prevention: National Prevention Week | ORN: Prevention Is Important. Additional sections include behavioral health observances, virtual training and webinar events, Region 3 news, new resources, and Regional Spotlight: 

The Tides that Bink, Inc

.

March 2022 Dialogue

 – Addiction: Equity-Grounded Leadership | Mental Health: Decreasing the Risk of Suicide for Black Boys | Prevention: Prevention Gambling | ORN: Peer Based Training. Additional sections include behavioral health observances, virtual training and webinar events, Region 3 news, new resources, and Regional Spotlight: 

Lost Dreams Awakening

.
Jan 2022 Dialogue — Addiction: Resolutions | Mental Health: Supporting the Well-being of Healthcare Professionals During COVID-19 | Prevention: The Importance of Prevention and Mentoring | ORN: Mentoring Mobile Clinics for Rural Areas. Additional sections include behavioral health observances, virtual training and webinar events, Region 3 news, new resources, and Regional Spotlight: The Clubhouse, a program of Ashley Addiction Treatment
2021
---
2020
Mar 2020 Dialogue

— Addiction: Social Work Month |

Mental Health:

Brain Awareness |

Prevention:

Substance Use Prevention and Preventing Problem Gambling | ORN: Partnering with Schools to Impact Addiction. Additional sections include behavioral health observances, virtual training and webinar events, Region 3 news, new resources, and Spotlight
Feb 2020 Dialogue — Addiction: Black History Month |

Mental Health:

Resources to Prepare Educators |

Prevention:

Substance Use Prevention and Stopping the Spread of HIV/AIDS | ORN: One-year Extension. Additional sections include upcoming training and webinar events, behavioral health observances, new resources, and Region 3 news

Jan 2020 Dialogue

— Addiction: New Year. New Journey. |

Mental Health:

National Mentoring Month |

Prevention:

 Prevention and Recovery | ORN: Compassion Fatigue. Additional sections include upcoming training and webinar events, behavioral health observances, new resources, and Region 3 news
---
2019
---
2017
---
2016
2014
---
2013
2012
---