Mobile Apps for Your Mental Health
Reviews of selected mobile apps for smartphones and tablets.
---
PROFESSIONAL APPS
APA Monitor+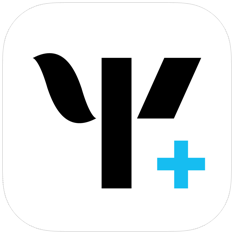 This app from the American Psychological Association allows you to view the whole magazine for free. Both current and past issues can be downloaded for offline reading.  There is a searchable archive of past articles. These articles are written in a clear, easy to read style and contain interesting and useful information on the latest research findings and treatments. This app is recommended for anybody looking for an easy way to keep up with developments in the field.
Features include:
Fresh new findings in the behavioral sciences plus articles on psychology education and practice, how-to career advice, international psychology news and more with downloadable current and past issues
Audio podcast series highlighting some of the latest psychological research being conducted today
More on what's happening at APA and in the field of psychology, including the latest news, webinars, events and more
Availability:
Cost: Free
***************************
Medscape

Medscape, from WebMD, is a highly informative and interactive app devoted to clinicians across disciplines in the medical field. The app features an up to date Clinical Disease and Condition Reference of more than 4,400 physical and psychiatric diagnoses authored and reviewed by a team of 7,700 physicians and pharmacists. The Drug Reference contains more than 8,000 medications and is equipped with a Drug Interaction Checker that checks for mild to serious contraindications for up to 30 drugs, herbals, and supplements at a time. The app's Medical Calculators allow clinicians to use formulas, scales, and classifications to help diagnose a number of different illnesses as well as access to dosing calculators for over 600 drugs.
Another feature is access to Continued Medical Education/Continued Education courses to fulfill various licensure requirements. The Formulary Information section allows clinicians to customize their Medscape account with the health plans that they accept from Medscape's list of over 1,800 insurance plans across the United States. In addition, app users are able to access the latest medical news on practice guidelines, FDA announcements, important journal articles from over 250 publications, conference news, business trends, and financial and malpractice advice.
There is an option for offline access by downloading the clinical reference database so that users may browse without internet connection. A medical directory of more than 460,000 physicians, pharmacies, and hospitals by name, location, and specialty is included in the app.
This app was rated 4.6 out of 5 stars by users in app stores and was the highest-rated free medical app for healthcare professionals in the App Store and Google Play.
Availability:
Cost: Free
---
APPS FOR SELF-CARE
Exhale – BIWOC Well-Being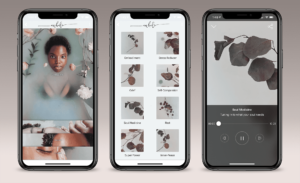 EXHALE is an emotional well-being app designed for Black, Indigenous, Women of Color (BIWOC). It's time to exhale – to let go of all that isn't serving you and breathe in life, energy, healing, and love. The practices in this app are what we call "soul medicine"- medicine for the depths of our souls. This app was curated by BIWOC so that in your emotional well-being journey, you can lean-in and trust that this space has been cultivated specifically for you.
Availability:
Cost: Free
 ***************************
My Mental Health Plan
The My Mental Health Crisis Plan app empowers individuals who have serious mental illness (SMI) to help guide their treatment preferences during a mental health crisis. Start right now and take an active role in your mental health care. Use My Mental Health Crisis Plan to create your own psychiatric advance directive (also called a PAD) or mental health advance directive. In just a few minutes, you can put a plan in place to guide your care in case of a mental health crisis.
Features:
CREATE your own personal PAD
CHOOSE who to share your PAD with, such as your family or treatment team
KEEP your PAD with you in the app, no matter where you are
UPDATE and SAVE your PAD any time your preferences change
Why you should create a PAD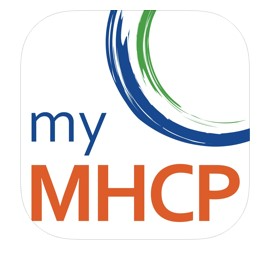 Take a more active role in your mental health care
Make sure you are better prepared in case of a crisis
Decide who are the contacts you trust to act on your behalf
Share your choices with doctors and others who are part of your care team
Define the decisions you want made during a mental health crisis
Emergency treatments that are acceptable, and those that are not
Medications that work best for you, and those to avoid
Physicians you prefer to handle your care, and who to avoid
Facilities where you would like to receive care, and those where you do not want to go
Who should make decisions on your behalf
Availability:
Cost: Free
 ***************************
MoodPanda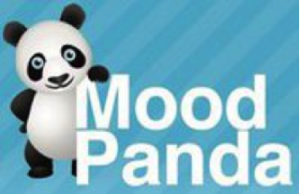 MoodPanda is a free mood tracking application for Apple and Android devices created by Jake Greenwood. It is an easy way to rate and track your mood, in order to see if there are any patterns in how your mood changes over time. You can generate a mood graph for use in therapy or just for your own knowledge. For instance, does your mood worsen every year in the fall? If so, you might have Seasonal Affective Disorder.
The app allows you to rate your mood on a scale of one to ten as often as you like. There is an option to add a short text message to describe or explain the reason for your mood. Your name and mood ratings appear in a "World Feed" that enables other members of the MoodPanda community to give virtual hugs and to comment.
The function to keep your mood private wasn't working at the time of the review. Finally, although the app is free, it does ask you to donate money. A donation is the only way to become a "supporter" and change the panda icon or to put a medal by your name.
This app is rated for users age 12 and above.
Availability:
Cost: Free
 ***************************
Waking Up: A Meditation Course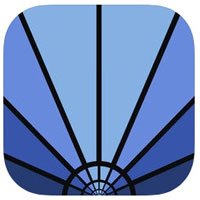 Waking Up is an app designed by Sam Harris, a neuroscientist, philosopher, and best-selling author. It is a guide to understanding the mind, for the purpose of living a more balanced life. This easy-to-use app provides 10-minute or less daily meditations as well as longer guided meditations (up to an hour).
"If you've had trouble getting into meditation, this app is your answer! Sam's thoughtful approach, calm voice, and depth of knowledge are extraordinary. The app will also launch you quite quickly into your own meditation practice. Thank you so much for creating this, Sam." – Susan Cain is a lecturer, bestselling author, and co-founder of Quiet Revolution. Her TED talk on the "power of introverts" has been watched over 20 million times.
Availability:
Cost: Risk Free
  ***************************
Anti-Stress Quotes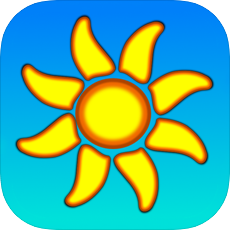 This simple Apple and Kindle app by Michael Quach delivers a series of inspirational quotes. You can select and save your favorite quotes or email them.  This review was from the iPad version, which doesn't have ads. One reviewer did complain about the ads on the iPhone version.
Depending on your tastes, you may find the background colors either cheerful or gaudy.  The quotes themselves are by a nice variety by wise men and women from all over the world.  They provide much food for thought.
While it is not a traditional stress reduction tool, your stress level may be reduced by taking the time to reflect on higher priorities in life.  In addition, some of the quotes may help put your problems in perspective.
One quote by Toni Morrison used the profanity "@hit", no other instances of inappropriate language were noted.
Availability: 
Cost: Free
---
RELAXATION
Relaxing Sounds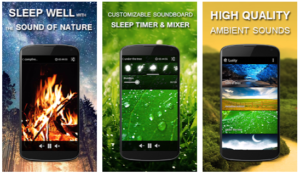 This Google Play app is one of many available that provide some sort of pleasant image or scenery with accompanying soothing soundtrack while you fall asleep, do yoga, meditate, or engage in other stress-reducing activities.
Unique features include forest, campfire, rainfall, waterfall, bird, and animal sounds, a timer; an option to be played in the background, and capability to mix sounds.
"I've recently been searching for something new to try that helps me sleep. Usually, I listen to thunderstorms, but have been trying some different sounds on this app and am really enjoying it. I have been falling asleep much faster, I like the timer settings and that it exits the application once the timer is complete. Thanks, I look forward to more updates. Oh, and it's free!" – 2020 Review
"This app continues to be wonderful. The quality of the nature sounds are amazing and variety is a delight, on top of that, you can fine-tune the soundscape, and set a timer. So many wonderful soundscapes, the ocean shore is my favourite." – 2018 Review
Availability:
Cost:  Free
   ***************************
Relax – Stress and Anxiety relief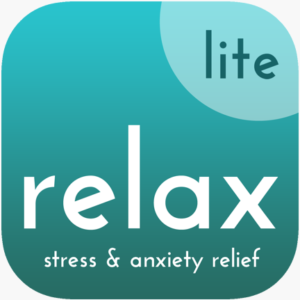 Learning to be aware of one's breathing patterns and control them is an important way to develop mindfulness and reduce stress for many cultures and traditions. This app functions as a breathing coach. It has a detailed explanation of a breathing technique in the information section.  It provides a choice of classical, vedic, nature, "serenity" and "ambient" music. Each is very repetitive – playing the same short segment over and over again for each breath cycle.
A nice feature of this app is that it gives both visual and audio cues. Those who are more visually inclined can watch a moving graphic of a pie chart to sync their inhalations and exhalations. Others may prefer to simply close their eyes and match their breathing to the soundtrack.
You can select how long you would like your relaxation session to be – starting at 5 minutes and going all the way up to an hour.  You can also choose the length of time for each individual breath.
"I have really benefitted from this app, its helped me through my degree with which can be very stressful. The breathing exercises (the ones you get for free) are great value, would recommend." – 2020 Review
Availability:
Cost: Free
 ***************************
Take a Break – Guided Meditations for Stress Relief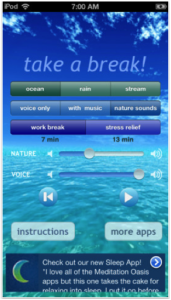 This app from Meditation Oasis provides two "guided meditations". Guided meditation occurs when one person (either in person or through a recording) guides another with verbal cues and instructions in order to facilitate relaxation. Most guided meditations give some instructions on how to relax the body, clear the mind, breathe more easily, let go of stress and refocus one's awareness and attention more productively.
People new or resistant to meditation tend to find it easier to follow instructions then try to meditate on their own. Having a voice to focus on helps keep most people's minds on track instead of wandering off or returning to the things that are stressing them.
This particular app allows you the option of having a background soundtrack of music or three different nature sounds (ocean, rain or stream) while the narrator speaks. You can customize the volume of the voice and background soundtracks separately.  You can also choose to mute the voice completely if you want an unguided meditation session.
There are two easy-to-accomplish lengths – a 7 minute "work break" and a 13 minute "stress relief" session. I found the woman's gentle voice and monologue soothing and quite effective at promoting relaxation. I also liked the fact that the meditations were of a very short and manageable length, yet long enough to be effective. The instructions are clear and reassuring for those new to meditation, or who have found previous efforts to be frustrating.
Availability:
Cost: Free
  ***************************
Balls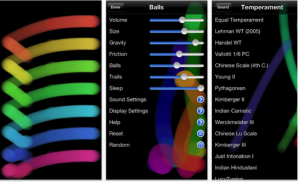 While some may find playing games on their mobile devices a good way to relax, most would probably consider it a stretch to call them legitimate tools for stress reduction.  "Balls" by Dan Sayers is the kind of game app that comes up while searching for "relaxation" or "stress relief".
You use your fingers to guide colored lines around the screen. While there are allegedly music and sounds, this reviewer was not able to activate any of them. Other reviewers reported similar results. I found the app briefly diverting, but not useful for relaxation or stress relief. Of 12 reviews, only one said they found it "relaxing" the rest either found it "fun" or disappointing.
Availability:
Cost:  Free
 ***************************
5 Minute Chillout Lite – Easy Relaxation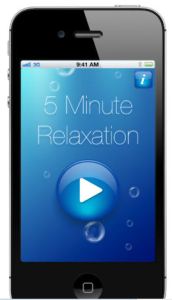 This Apple only app provides two simple five minute guided meditations. Guided meditation occurs when one person (either in person or through a recording) guides another with verbal cues and instructions in order to facilitate relaxation. Most guided meditations give some instructions on how to relax the body, clear the mind, breath more easily, let go of stress and refocus one's awareness and attention more productively.
People new or resistant to meditation tend to find it easier to follow instructions then try to figure out how to do meditation on their own. Having a voice to focus on helps keep most people's minds on track instead of wandering off or returning to the things that are stressing them.
Both options have a soothing female voice and new age type music. One is meant to help you fall asleep. The other is meant as a five minute break for those wanting a quick meditation before resuming their daily activities. I would be hard pressed to tell the difference between the two – the one to help falling asleep mentioned the user being in a chair, which doesn't seem like a safe place to have somebody deliberately fall asleep. However, the one meant to be done with the intention of staying awake afterwards seemed effective enough, guiding the listener through a systematic relaxation of different body parts.  While not the best free guided meditation app out there, the waking version should provide you with a quick and easy to use way to reduce your stress levels.
Availability:
Cost: Free
---
APPS FOR LEADERSHIP DEVELOPMENT
Mind Tools

The Mind Tools app can serve as a resource for new and mid-level leaders.  As a new leader you may not know where to start to develop your leadership skills, and the Mind Tools app helps you quickly focus on key competencies, leadership theories, and management strategies to help set a foundation to develop your leadership skills. The app is easy to use, which is great for individuals that may be new to using apps (content can be accessed within 2 clicks) and the content loads quickly.
Many of the articles can be read in about 30 minutes and provide a summary of key points at the end. The content provided through the app is also available on the website Mindtools.com, so the app is probably better for individuals that prefer to get information on the go, accessing content via apps, or easily accessing content when a computer is not available (e.g., desk-side discussion with a team member or in the field). All the content on the app is provided through articles, which may not appeal to you if you prefer content delivery in a variety of formats (e.g., audio, video). The app also does not provide any type of interactive features (e.g., taking skills assessment), but these tools are available via MindTools.com.
The Mind Tools app provides access to their Mindtools Toolkit which has 12 skill building categories with over 100 articles on areas such as team management, leadership, problem-solving, and communication skills. The information presented through the app is easily accessible and concise, allowing you to get the resources you need while using your smartphone or tablet.
A few highlights from the app include:
Team Management Articles: The GROW Model and Team Management Skills
Leadership Development Articles: Leadership Styles and Emotional Intelligence in Leadership
Communication Skills Articles: Making a Great First Impressions, Win-Win Negations, and Thinking on Your Feet
Career Skills Articles: Personal SWOT (Strengths, Weaknesses, Opportunities, and Threats) Analysis, Myers Briggs Personality Testing, and Dealing with Office Politics
The app complements the Mindtools.com website, which features more than 600 resources, including articles, videos, and self-assessments to assist individuals with career development. You can sign up to receive a free weekly newsletter through the app, which also gives you access to a free Personal Development Plan Workbook.
The Mind Tools app has received favorable reviews by users with a 4.6 out of 5 rating.
Availability:
Cost: Subscription required
---
OTHER APPS RELEVANT TO THE FIELD